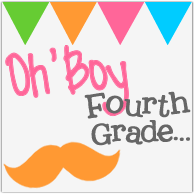 I'm linkin up with Farley over at Oh' Boy Fourth Grade... for August Currently!
So, what are YOU currently doing?
Currently:
Listening: I love love LOVE pandora radio - I always have it on Kidz Bop, Disney Radio or School House Rock on my computer. I had it on working in my classroom the other day, and my friend Megan's kiddos were in and out of the room - so it stayed on "Today's Hits"
Loving: My new baskets in my classroom. My "color scheme" this year is Black, White and Bright! Anything Black and White, or a bright color - I HAVE to HAVE! I found some great ones at our local Wal Mart too! When I put up pictures of my room all finished next week, you will see them!! If you just can't wait, you can buy them
here
!
Thinking: WHAT happened to summer?! We didn't get out until June 14th. The very next week I had my first week of Technology camp, then a week with the fam at the beach, and it's all a blur after that!
Wanting: More time in my classroom! Who isn't? I was in my room Wednesday and Thursday last week -and I am SO glad because Tuesday and Wednesday of this week we have two days of SFA reading training! That means we go back Monday, and then our students come in to meet their teachers Thursday. AAACKKK! I love the idea of "Business Day" -- Each year before school starts our county has business day for parents to come in and meet the teacher before school starts. Students can drop off their supplies, and meet the teacher. Teaching in such a small town, I already know many of the families I will be teaching, which is a great feeling!
Needing: A B2S Bulletin Board idea for outside my classroom. I already have up white paper with a thick black border. I do have a "Welcome" banner I could put up -- it's chevron pennants and super cute - but then what? Help!
B2S must haves: 1) My Thirty One bags!! Did you know the organizing tote can hold a file organizer?! SO excited to have all my Thirty One gear to keep me organized.
2) My Sharpie collection - I have an addiction! I have large poster size, I have small extra fine point, I have EVERYTHING! I even bought the Paint Pens to do my names on my desk this year! I found that idea on Pinterest from
here
!
3. My Teacher Binder -- This thing keeps me ORGANIZED. A section for each subject, student info, calendar; everything in one place at my fingertips.
Two more days of Summer.... I hope all of you who also start back next week enjoy your last few days! :)